Data Science Team
To address the event-driven, rapidly changing needs of 21st- century society, water science must be open and data-driven, use the best available scientific methods, and rapidly communicate findings to the public using multiple platforms, including print, web, and social media. To support these needs, the USGS Office of Water Information (OWI) Data Science team has developed a foundation for rigorous and efficient data-driven scientific analysis, quick assembly of thematic teams and dissemination of contemporary science, and advancement of scientific computing best practices across the USGS and partners.
The OWI Data Science team, which is a cross-functional team of earth scientists, data analysts, and computer scientists, has four objective functions that are designed to increase the efficiency of USGS science and more effectively communicate its value to the Nation:
Training
To promote and enable more scientists to conduct efficient, data-driven analyses, we offer training in scientific computing workshops. We currently have three different workshops: Introduction to R, USGS OWI R Tools, and Advising in Scientific Computing. The Introduction to R workshops are typically 2-3 days long, are hands-on, and cover basic skills for using R for a reproducible, scalable, and transparent scientific workflow. The curriculum takes students through common data analysis workflow steps:

The USGS OWI R Tools workshop focuses on specific applications of R for earth science analyses, and teaches the basics of using OWI R packages. This course expects participants to have an intermediate level of R experience. Advising in Scientific Computing is an informal workshop where a group interested in developing their own R package can work with some of our experienced R package developers. The workshop covers version control (Git/GitHub), and package development best practices. By the end of the week, participants should have functioning package that they can continue to develop and maintain without the OWI team.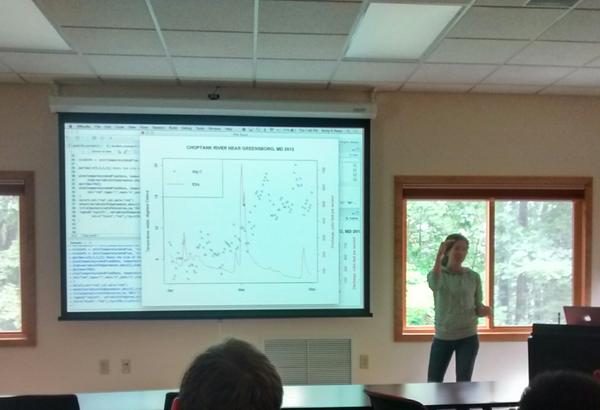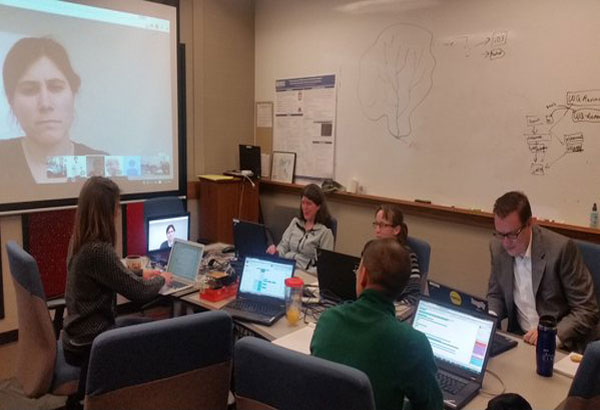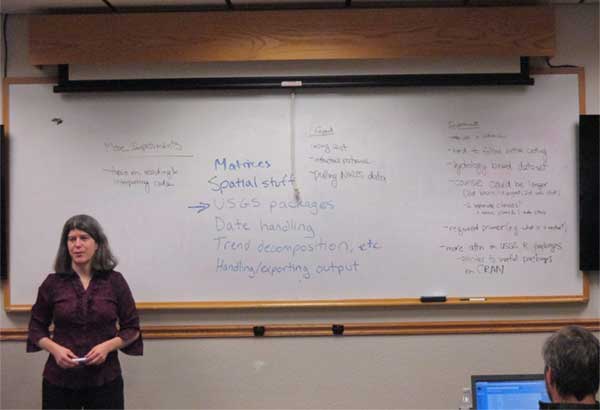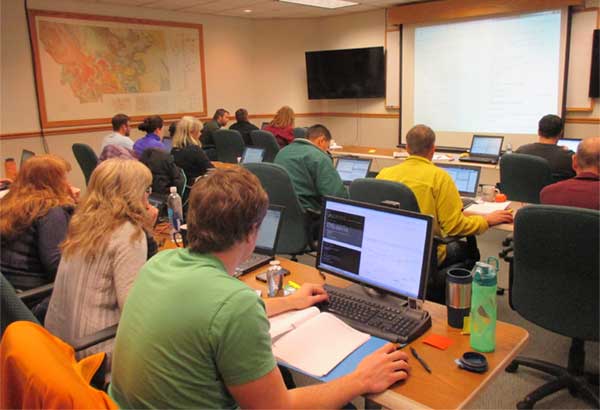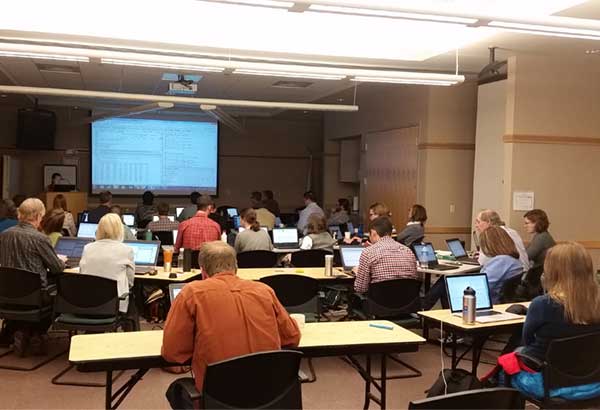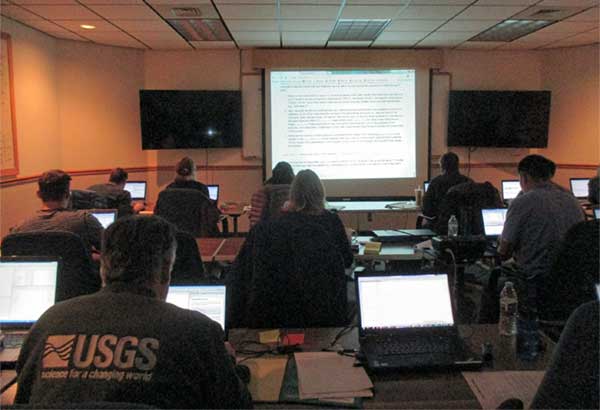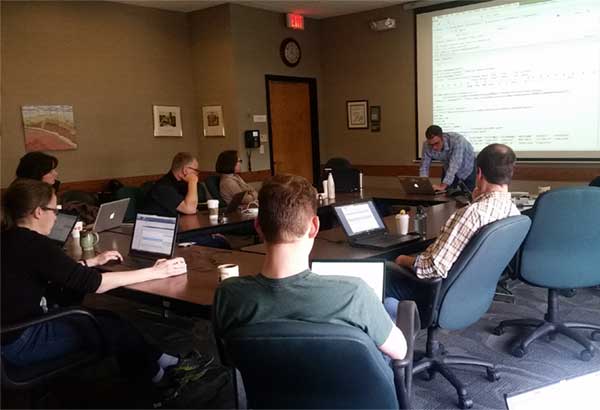 Please visit our R Community website for more information on Introduction to R workshops. To learn more about USGS OWI R Tools or Advising in Scientific Computing contact <gs-w_r_admin@usgs.gov>
Visualization Portfolio
We rapidly develop and deploy visualizations on current water issues as part of the USGS Visualization Lab (VIZLAB). These visualizations involve working with USGS scientists and partners to highlight timely science in accessible and appealing visual stories.
Recent publications
We collaborate with water science practitioners to tackle water resources questions that are analytically complex and computationally challenging, broad or highly resolved in space and time, and diverse in the type or structure of supporting data. This research portfolio demonstrates the value of a data-driven scientific approach through application of data science best practices, and is accomplished using transparent, scalable, and efficient data science approaches. Our group continues to identify, expand on, and share skills in the application of modeling approaches, machine learning, algorithm development, and remote sensing image processing to water science.
2017
Snortheim CA, PC Hanson, KD McMahon, JS Read, CC Carey, HA Dugan. 2017. Meteorological drivers of hypolimnetic anoxia in a eutrophic, north temperate lake. Ecological Modelling. 343: 39-53. doi: 10.1016/j.ecolmodel.2016.10.014
2016
Thieler ER, SL Zeigler, LA Winslow, MK Hines, JR Read, JI Walker. in press. Smartphone-based distributed data collection enables rapid assessment of shorebird habitat suitability. PLoS ONE
Winslow LA, JA Zwart, RD Batt, HA Dugan, RI Woolway, JR Corman, PC Hanson, JS Read. in press. LakeMetabolizer: An R package for estimating lake metabolism from free-water oxygen using diverse statistical models. Inland Waters.
Brentrup JA, CE Williamson, W Colom-Montero, W Eckert, E de Eyto, H-P Grossart, Y Huot, P Isles, LB Knoll, TH Leach, CG McBride, D Pierson, F Pomati, JS Read, KC Rose, NR Samal, PA Stæhr, LA Winslow. in press. Extending the Plankton Ecology Group (PEG) model: The potential of high-frequency profiling to assess vertical and seasonal patterns of phytoplankton dynamics in lakes. Inland Waters.
Read JS, C Gries, EK Read, J Klug, PC Hanson, MR Hipsey, E Jennings, CM O'Reilly, LA Winslow, D Pierson, C McBride, DP Hamilton. in press. Generating community-built tools for data sharing and analysis in environmental networks. Inland Waters.
Dugan HA, RI Woolway, AB Santoso, JR Corman, A Jaimes, ER Nodine, VP Patil, JA Zwart, JA Brentrup, AL Hetherington, SK Oliver, JS Read, KM Winters, PC Hanson, EK Read, LA Winslow, KC Weathers. in press. Consequences of gas flux model choice on the interpretation of metabolic balance across 15 lakes. Inland Waters.
KC Rose, LA Winslow, JS Read, GJA Hansen. in press. Climate-induced warming of lakes can be either amplified or suppressed by trends in water clarity. Limnology and Oceanography Letters.
Winslow LA, S Chamberlain, AP Appling, JS Read. 2016. sbtools: A package connecting R to cloud-based data for collaborative online research. The R Journal. 8(1):387-98.
Hansen GJ, JS Read, JF Hansen, LA Winslow. 2016. Projected shifts in fish species dominance in Wisconsin lakes under climate change. Global Change Biology. doi:10.1111/gcb.13462
EK Read, M O'Rourke, GS Hong, PC Hanson, LA Winslow, S Crowley, CA Brewer, KC Weathers. 2016. Building the team for team science. Ecosphere 7(3):e01291.10.1002/ecs2.1291
2015
O'Reilly CM*, S Sharma*, DK Gray*, SE Hampton*, JS Read, RJ Rowley, P Schneider, JD Lenters, and others. 2015. Rapid and highly variable warming of lake surface waters around the globe. Geophysical Research Letters. 42, doi:10.1002/2015GL066235. *joint first authors
Read JS, JI Walker, AP Appling, DL Blodgett, EK Read, LA Winslow. 2015. geoknife: Reproducible web-processing of large gridded datasets. Ecography. 38: 1-7. doi:10.1111/ecog.01880
Hirsch RM, SA Archfield, LA De Cicco. 2015. A bootstrap method for estimating uncertainty of water quality trends. Environmental Modelling & Software. 73: 148-66.
Read EK, V Patil, S Oliver, A Hetherington, J Brentrup, J Zwart, K Winters, J Corman, E Nodine, IR Woolway, H Dugan, A Jaimes, A Santoso, G Hong, LA Winslow, PC Hanson, KC Weathers. 2015. The importance of lake-specific characteristics for water quality across the continental US. Ecological Applications. 25: 943-955.
Hipsey MR, DP Hamilton, PC Hanson, CC Carey, JZ Coletti, JS Read, SW Ibelings, F Valesini, JD Brookes. 2015. Predicting the resilience and recovery of aquatic systems: A framework for model evolution within environmental observatories. Water Resources Research. 51. doi:10.1002/2015WR017175
Read EK, M Bucknell, M Hines, J Kreft, J Lucido, JS Read, C Schroedl, D Sibley, S Stephan, I Suftin, P Thongsavanh, J Van Den Hoek, J Walker, M Wernimont, LA Winslow, and A Yan. 2015. New insight into California's drought through open data. BAAMA Journal, 8(1).
Hirsch, RM and LA De Cicco. 2015. User guide to Exploration and Graphics for RivEr Trends (EGRET) and dataRetrieval: R packages for hydrologic data. No. 4-A10. US Geological Survey.
See all publications >>